Slated by Teri Terry
Goodreads synopsis:
Kyla's memory has been erased,
her personality wiped blank,
her memories lost for ever.

She's been Slated.

The government claims she was a terrorist, and that they are giving her a second chance - as long as she plays by their rules. But echoes of the past whisper in Kyla's mind. Someone is lying to her, and nothing is as it seems. Who can she trust in her search for the truth?
When I first heard about Slated, I was so excited about it. I have a real thing for YA dystopian fiction at the moment, and so this was really the perfect book for me to be offered for review - not to mention that it's one of the best-sounding YA books of the year (in my humble opinion)!
I was absolutely right to be so excited about this book - I was absolutely amazed by it.
I'll start with the premise for the novel (and the entire series, I guess). I absolutely adored it. It's a fairly simple starting idea; young criminals (aged 16 or younger) are, instead of being sent to prison, given a 'second chance' at life - they are slated - their minds are wiped and they are rehabilitated back into society, with a new, adoptive family. They are also fitted with a Levo, which measures their emotional levels, and knocks them out if they get too close to anger or sadness - emotions that may cause them to re-offend.
However, this evolves into something much more complex, and absolutely more compelling.
Once everything starts to change for Kyla (the protagonist), I was utterly absorbed by the wider world that was slowly being revealed through her eyes.
Everything about the plot was so exciting. At the beginning, we're just getting to know the premise, and of course, Kyla and her new life. But then, once we're further into the novel, little things keep happening that shake things up a bit, and these just build until, basically, everything around Kyla just explodes. It's so exciting when you realise that not everything is quite as it had originally seemed, and even more so when the pace of the story kicks up a notch, and everything falls into place.
It was utterly gripping, and I absolutely did not want to remove myself from this world.
I will say though, that I think the only thing that let the book down, was the ending (although, this was only a marginal let down). There was a huge twist,
really
close to the end of the book, and the pace is going at it's absolute maximum, but then the book just seems to end rather abruptly because of this. Now, I'm all for a good cliffhanger - don't get me wrong - but the abruptness of this one felt a bit like a slap in the face (but this may also be due to the fact that I am
dying
to know what happens next)! Other than this though, I have absolutely no other complaints!
I also want to give a really quick mention to the setting of the book. YA dystopian fiction novels are, as we are all probably aware by now, quite popular at the moment. However, what isn't so common, is a YA dystopian novel that's set in England. This was such a refreshing change of pace!
I'm not saying that the dystopians set in the US are bad in any way - in fact, if you've seen my reviews before, you should know that I love them - but it's so nice to be able to read something and be able to relate to it a little more. I have no idea what it's like to live in the US, so I can't relate to the story in that way, if it's set in the states (though I do enjoy being transported there, if the author does their job properly). But the fact that this book is set in England means that I can properly imagine all of the scenes, particularly when Kyla is in school - when we are told that Kyla is put into year 11, I know exactly how old the students are etc, but when an American author tells me the character is a 'freshman' or a 'sophomore', I'm left guessing. It's not a huge thing, and I love reading American books, but this is just so nice for a change - plus it's really well-written, so it's like a double bonus!
I also really liked that the book wasn't
obviously
set in the future. The year that the book is set in
is
mentioned, but only really once, I think, so it's not shoved in your face, that this book is supposed to be futuristic, like it can be with other books in the genre. I like that it just allows you to become absorbed into the book, and live in it as though it's the present - it makes it feel so much more immediate and real.
The final thing that really stands out, for me, with this novel, is the characters - particularly Kyla's. I absolutely adored her! Even at the beginning, when she is still unsure of herself, quiet with the other characters, and above all, restless, we still have the sense that she is somehow different from the norm, and that she will be a catalyst for
something
, but we don't quite know
what
just yet.
She eventually becomes so strong, independent and strong-minded (even though she isn't supposed to), but not only this - intelligent too. She kind of has a Jekyll and Hyde thing going on throughout a lot of the story - she'll say or do one thing (what is expected of her), but her inner, real thoughts are there on the page for us to see - and they're anything but conformist! These italicized thoughts allow us to see how she filters her thoughts and actions to stay under the radar and keep safe - and as I've said, they also show her intelligence and, despite her initial confusion, her subconscious understanding of what is
really
going on around her.
She's wonderful, and I know we haven't yet seen her at her strongest and best, so I'm excited to see what she does next!
There were plenty of other excellent characters, next to Kyla, too, but this review will be enormous, if I mentioned them all in detail, so I will just briefly mention those that stood out to me.
Kyla's adoptive family was really, really interesting too. I loved her adoptive sister, Amy, particularly at the beginning, but closer towards the end, it kind of felt as though she was falling flat, but I think that's mostly because Kyla was so different from her, and it was obvious that Amy was entirely under the control of the government etc. The characters that
real
ly interested me though, were her adoptive parents. At the beginning, we think we know what they're going to be like (which one is going to be the good guy, and who's the 'dragon' etc), but these roles are almost completely reverse! I have so many unanswered questions about Kyla's parents, and I absolutely can't wait to learn more from them! There is definitely more there, than initially meets the eye.
There are definitely other characters that I would love to mention, but I can't really do so, without giving too much away - I've had to be careful not to give too much away already! But just trust me, there are some great characters in this novel!
Hopefully it's fairly obvious by now that I am obsessed with this book, and equally as obvious that I am going to be very restless indeed, until I can get my hands on the sequel, Fractured. I absolutely and wholeheartedly recommend this book to all fans of YA, dystopian and science fiction, but I would honestly recommend it to anyone who thinks it sounds even mildly interested - I wasn't disappointed, so I'm hoping that you won't be either!
We're lucky enough, here at Pen to Paper, to have author of Slated, Teri Terry, over to visit us, for a very special interview! Before we get into the main questions, Teri wants to speak about the Edinburgh Book Festival!
I'm SOOOO excited that I've been asked to appear at the Edinburgh Book Festival this August. I'm doing two events on August 22 – one in the Schools program on dystopian fiction with Sara Grant, and one in the main program with Anne Cassidy and Susanne Winnacker.
And as a debut speaker at Edinburgh, I've also been nominated for an Anobii first books award! This is voted for by readers, and if you vote you are in with a chance to win all the nominated books (45 of them) – this is international. To learn more about the award:

http://www.edbookfest.co.uk/writers/anobii-first-book-award?page=2

And the link to vote is:

http://www.edbookfest.co.uk/the-festival/anobii-first-book-award/vote


My website is

http://teriterry.com/

I blog with other authors on all things dark and dystopian in YA fiction, on

http://demention.co.uk/
First of all, would you tell us a little bit about yourself?
I'm an Aussie-Canadian hybrid of Dutch and Finnish descent who was born in France and now lives in England. I have a weird accent. I'm not good at sitting still. People talk to me inside my head – but it's OK, I'm a writer.
First of all, let's talk about books! When would you say you really fell in love with reading?
I think I always loved reading, from picture books on up. But I have one clear memory of the first time we had book club in school and I got to pick out a book for myself – and staying up half the night to read it. I can't remember what it was called but I can still see the cover and remember the story – I was at that age when I was just starting to read for myself.
Who/what were your favourite authors/books as a child, and who/what are they now?
I read the Lord of the Rings more times than I can count: first from the library, then the boxed set I got as a birthday present. They've been read so many times they're nearly in pieces. I also loved Anne McCaffrey's Pern books, and Frank Herbert's Dune series. Fantasy and science fiction were my favourites, but really I'd read anything and everything.
Now I'm fussier; if I don't like something, I give up. Recent loves have been The Adoration of Jenna Fox by Mary E. Pearson, Ultraviolet by R.J. Anderson, and Heart Shaped Bruise by Tanya Byrne.
Who would you say are your biggest influences as a writer?
I think everything I've ever read has left little footprints, somewhere inside. Though I would say a few that were significant to me recently were Skellig by David Almond, and Artemis Fowl by Eoin Colfer. Around the time I read them I was trying to write adult novels and short stories (badly). I reassessed, and went younger.
Have you always wanted to be an author? What made you decide to finally put
Pen to Paper
?
I always loved reading, but to me writers were fantasy, shadowy beings – they weren't real, it wasn't something I thought I could do. When I was 17 I made a vow to write… and did very little about it for a decade or two. What finally got me to go for it was when I moved to the UK to get married. I had to switch careers; I also couldn't work until after we got married so had loads of time on my hands. And I decided to go for it.
Slated, as you already know, is a book that I've really enjoyed - what inspired you to write it / where did the idea for the story come from?
This is one question I can't answer. It started with a dream, but where did it come from? Seriously – no idea. Though… I do think you end up writing about the things that obsess you, inside. Hidden fears you might not even want to know about.
When you started writing Slated, did you know how the novel was going to end, or did it just develop as you wrote it?
Confession: the last chapter was one of the first that I wrote! It's been edited a little but the basic events are the same.
Do you have a special place you like to go to write? And do you set yourself a writing schedule?
In the mornings I write in my PJs in bed, and in the afternoon – if it isn't too cold – I have a Writing Shack in the Garden. It hasn't got heating so I wimp out and stay inside in the winter.
When I'm doing a first draft I have a schedule. I map out how many words I want to do every day for weeks until 'the end' and put in the numbers I write in columns and add them up. Yes, it is a bit obsessive. But breaking it down into chunks makes it less terrifying. And there is a real sense of satisfaction in seeing them add up.
If Slated was to be made into a film (movie?), who would you cast as Kyla? What about the other characters?
I think I'd be rubbish at casting and would leave it to the professionals. The reason is that my characters are real to me, and I know exactly what they look like in my mind. I'd never find anyone to fit that.
What can we expect from the next book in the series?
Fractured is out next May in the UK. Kyla's story continues: she has choices to make that will change everything. The action heats up in book 2.
Do you prefer...
Paperback or Hardback?
Generally paperback as I haven't got enough space or money to collect hardbacks. And they're easier to carry around.
Library books, or own the books?
Both – but I buy the ones I really want to keep
Tea or Coffee?
Tea
Sweet or Savoury?
Savoury
Summer or Winter?
I can't choose! I love the changing of the seasons.
If you could go anywhere in the world, and do anything once you get there (money not being an issue), where would you go, and what would you do?
I used to live in Australia and haven't been back since 2004. I'd love to go for a visit – see friends, hang out at the beach, go to some parties!
If you were stranded on a desert island, and could only take three possessions with you, what would they be, and why?
Notebooks, pens and a bottomless bag of chocolate M&Ms? Or maybe swap the last one for a chef.
Other than reading and writing, what other hobbies do you have?
They are the main ones. I like walking, dinner with friends.
If you could meet one fictional character, from any book, who would it be, and why?
Sorry, no idea on this one!
If you were given £1 million, what would you do with it?
Maybe move to a Scottish island and buy an isolated house, perfect for writing? Or get an Aussie escape!
What things in life make you smile the most?
People I love. The words 'The End' when I know I got it right (even though later I'll change my mind on that).
And finally... Everyone has their habits - do you have any weird or interesting habits?
Probably too many to list….! I've got the usual writer stationery obsession: I can't start a story without the right notebook; I only write with certain pens.
Not a habit but I curse a lot when I type the title of my book. I touch-type, at speed, and somehow it always comes out as 'Salted'.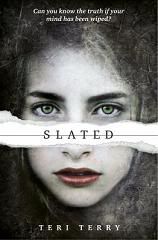 And now for some more excitement! Thanks to the guys at Hachette UK, I have an

international giveaway

for one copy of Slated by Teri Terry, especially for you!! All you have to do is read the following rules/guidelines, and then get entering via the Rafflecopter below :)
This giveaway is international, so anyone can enter, but you must be a Google Friend Connect (GFC) follower of Pen to Paper to qualify for entry.
There are optional extra entries available for this giveaway. If you fill these in, please make sure that you complete each task in full to avoid being disqualified.

I reserve the right to disqualify any entrant who has not fulfilled either the mandatory entry requirement, or completed the optional entry tasks in full.

When the giveaway is over, I will email the winner, and they will then have 48 hours to reply to my email, in order to claim their prize. If they do not do so within this time frame, another winner will be drawn, and they will lose their prize. It's nothing personal - but someone has to have the prize!

When the winner replies to my email, with their postal address, I will then pass this onto Hachette, and they will post the prize out to the winner. No other details will be passed on at all.
Please do not leave your email address anywhere on this blog. I use Rafflecopter to keep your details safe, so please take advantage of that!
This giveaway will end on July 31st at 23:59 EST.
Now all that's left to do is make sure you're a follower, and get entering! Good luck to everyone who enters!